Advocacy is a key part of what we do here at the Opelika Chamber. We value the importance of keeping our community informed. As you may know, the state of Alabama is officially in session and our legislators are hard at work!  We will keep our membership and community up to date on all things happening in Montgomery and Washington with regular communication while legislators are in session. To make sure you don't miss anything, be sure to sign up for our legislative emails. To read our April 2023 update, click the button below!
We have crafted the below Public Policy Agenda to represent the East Alabama region, and ensure our business community's voice is HEARD. Thank you to our Public Policy Committee and Board of Directors for helping us make headway on this major initiative. As a reminder, we surveyed our membership in February 2023. The results were clear. Our business community has three top priorities: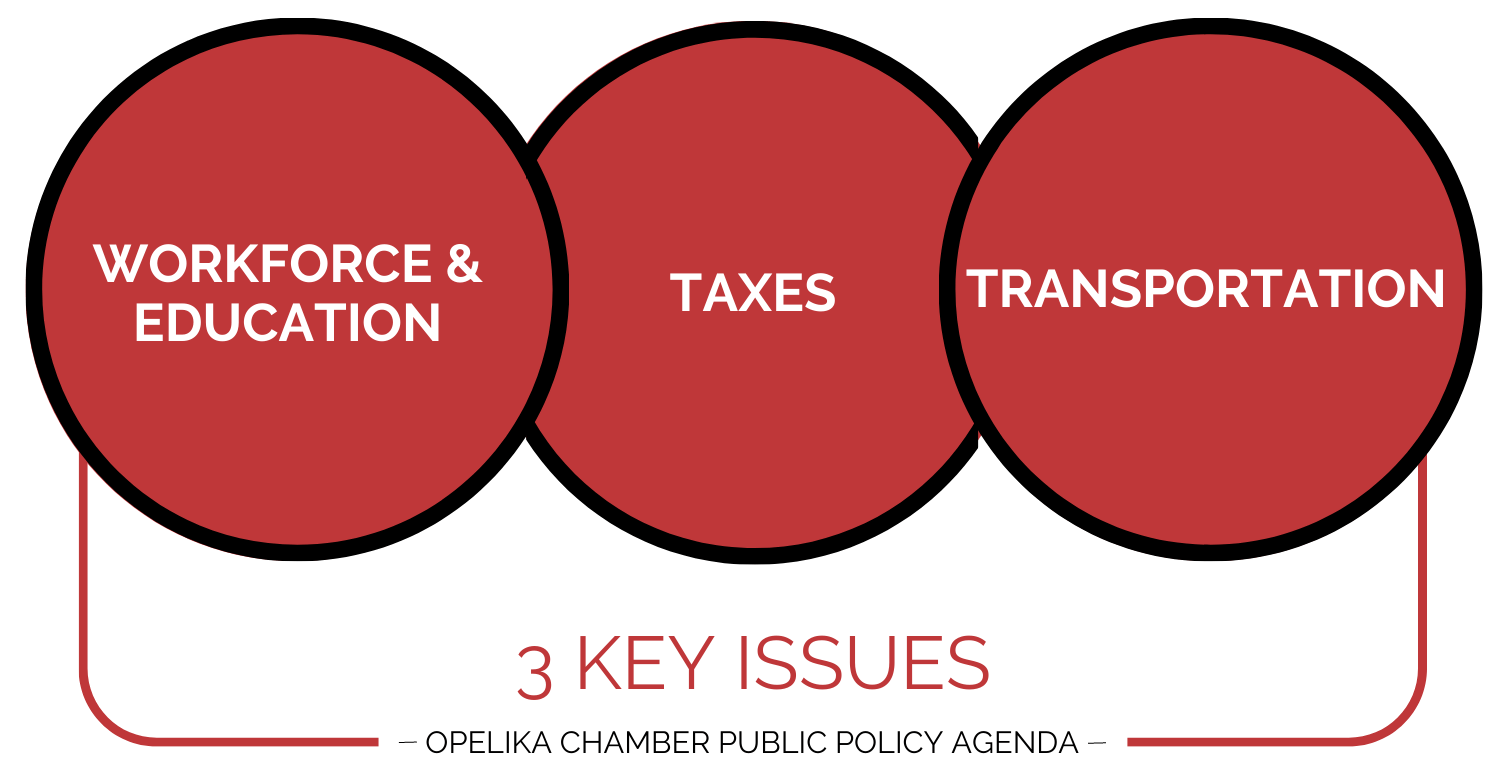 Improve labor laws to allow teenagers to work more flexible hours, specifically adjustments to allow them to work after 7PM on weekdays and 9PM on weekends, and more than 20 hours/week.

Enhance efforts to create legislation that assists undocumented people work legally (example: easier access to proper documentation or work visa expansion programs).

Support expansion and funding of career coaches to advise students of various potential career paths based on ability and aptitude, creating an accountability framework for career coaches.

Advocate for state agencies to maximize state and federal dollars to address key workforce issues such as expansion of quality childcare and workforce transportation, including the removal of excessive red tape affiliated with new business creation of childcare facilities.

Support of a comprehensive youth apprenticeship model for students under the age of 18 who are currently constrained by state workers' compensation and insurance regulations which may limit access to on-site industrial training.

Remove red-tape related to access to WIOA (Workforce Innovation & Opportunity Act) funds.

Encourage incentive programs to keep graduates in the State of Alabama.

Enhance efforts to prepare the previously incarcerated to rejoin the workforce and support and fund the development of an effective state-wide "second chance" program for diversion.

Increase efforts to provide full funding for voluntary pre-kindergarten ("Pre-K") educational programs administered by certifiably trained staff and ensuring that the programs demonstrate student academic preparedness for kindergarten through required appropriate accountability measures as advocated for by the Business Education Alliance.

Oppose Immigration laws that impose additional burdens on or otherwise penalize Alabama employers.

Advocate the Department of Human Resources where and how federal funds are deployed across the State into the childcare industry.

Improve rural access to high-speed internet in the state of Alabama
Implement a unified audit process to stop businesses from being audited by the Alabama Department of Revenue, and then by cities, counties, and private auditing firms for the same tax and same tax periods.

Reform the state-county business license statutes to provide a simpler and more uniform process for businesses to apply for and receive a business license.

Legislation that provides local government the authority to eliminate the local sales tax placed on purchases of food.

Legislation to increase SSUT tax rate to be consistent with the average rate collected by brick-and-mortar retailers.

Efforts to clarify the exemption from the Alabama business privilege tax for any limited liability company that is wholly owned by a tax-exempt organization.

Encourage legislation that streamlines the process by which non-profit organizations that are exempt from paying sales and use taxes receive their certificate of exemption from the Alabama Department of Revenue and reduces the burdens imposed under new information return reporting requirements.
Continued advocacy to support legislation that would increase access and availability to public and mass transit among our state and local communities.

Advocate for the Alabama Department of Transportation to allocate dollars to address the increasing challenges of workforce transportation in rural counties in the State.

Support funding for the following projects:

Loop Road from Exit 66 to Hwy 431 and ultimately to Hwy 280

Loop Road from Exit 66 to 280 East

Veterans Extension – Veterans to Airport Road to Cunningham at Thomaston/Gateway

Connector between Hwy 431 to the Sportsplex Road with bridge over the Railroad.